Drukair Route
Drukair Corporation Limited, also called Drukair – Royal Bhutan Airlines, is the flag service provider of Bhutan. Founded in 1981, ten years after the kingdom of Bhutan was gradually opened up from self-imposed isolation, and 7 years after inviting its first foreign visitors, the airline began operations in 1983 with flights from Kolkata to Paro. Drukair operates a small set up flight network within southern Asia from its Paro Airport and currently contains twelve locations in 6 countries. Until 23 August 2010 Drukair was the only airline company flying into Bhutan.
Drukair has Eight international and Three domestic destination:
1.Perth, Singapore
Singapore, an island city-state off southern Malaysia, is a global financial center with a tropical climate and multicultural population. Its colonial core centers on the Padang, a cricket field since the 1830s and now flanked by grand buildings such as City Hall, with its 18 Corinthian columns. In Singapore's circa-1820 Chinatown stands the red-and-gold Buddha Tooth Relic Temple, said to house one of Buddha's teeth.
Airport Information
Airport Name: Changi Airport
City: Changi
IATA Code: SIN
2.Bangkok,Thailand
Bangkok, the capital city of Thailand is one of the most visited cities, from unbeatable street food to the temples, world renowned floating market and a vibrant night life. It is the largest and the most developed city but manages to maintain it's historical architecture and tradition. Bangkok is a hot spot that continues to attract thousands of people from all around the world.
Airport Information
Airport name: Suvarnabhumi International Airport
City: Bangkok
IATA Code: BKK
3.Dhaka, Bangladesh
Dhaka is the capital city of Bangladesh, in southern Asia. Set beside the Buriganga River, it's at the center of national government, trade and culture. The 17th-century old city was the Mughal capital of Bengal, and many palaces and mosques remain. American architect Louis Khan's National Parliament House complex typifies the huge, fast-growing modern metropolis.
Airport Information
Airport name: Hazrat Shahjalal International Airport
City: Dhaka
IATA Code: DAC
4.Kathmandu,Nepal
Kathmandu, the capital city of Nepal has an incredibly diverse historic city with many old Hindu and Buddhist religious sites. Whether you are barreling through the traffic jammed alleyways as the medieval temples or dodging trekking vendors in the backpacker district of Thamel, Kathmandu can be intoxicating, amazing and refreshingly friendly. It is also the home to the highest mount of the world (Mount Everest).
Airport Information
Airport name: Tribhuvan International Airport
City: Kathmandu
IATA Code: KTM
5. Delhi, India
Delhi is the capital city of India and the major gateway to the country. It constitutes a blend of traditional culture along with the today's world. Modern Delhi, now boasts some of the world class restaurants, bars and nightclubs.
Airport Information
Airport name: Indira Gandhi International Airport
City: Delhi
IATA Code: DEL
6.Calcutta,India
Calcutta (old name), also known as the city of joy is the second largest city in India. It has developed from a fisherman's village to become one of the largest cities. Calcutta is known to be India's intellectual, artistic and cultural capital. Home to delicious street foods, mouthwatering Bengali cuisine and desserts, it is among India's top cities to sample delicious food.
Airport Information
Airport name: Netaji Subhas Chandra Bose International Airport
City: Calcutta
IATA Code: CCU
7.Bagdogra,India
Bagdogra is a census town in Darjeeling district in the Indian state of West Bengal. Bagdogra is a part of the Greater Siliguri Metropolitan Area. Bagdogra is well connected by air from four major cities of India – Delhi, Mumbai, Kolkata & Chennai . Bagdogra has a railway station. Bagdogra Airport is the only airport in North Bengal , which is now a Customs Airport.
Airport Information
Airport name: Bagdogra International Airport
City: Bagdogra
IATA Code: IXB
8.Guwahati,India
Guwahati is a sprawling city beside the Brahmaputra River in the northeast Indian state of Assam. It's known for holy sites like the hilltop Kamakhya Temple, featuring shrines to the Hindu deities Shiva and Vishnu. To the east, 18th-century Navagraha Temple is an astronomical center with planetary shrines. Umananda Temple, dedicated to Shiva and covered with engravings, stands on Peacock Island in the river.
Airport Information
Airport name: Lokpriya Gopinath Bordoloi International Airport
City: Guwahati
IATA Code: GAU
9.Paro,Bhutan
Paro is a historic town with many sacred sites and historical buildings scattered throughout the area. It is also home to the only International Airport in the country. It contains one of Bhutan's most iconic landmark, Taktsang Monastery (Tiger's nest). There are over 155 temples and monasteries in the area, some dating as far back as the 14th century.
Airport Information
Airport name: Paro International Airport
City: Paro
IATA code: PBH
Domestic Airport
10. Bumthang,Bhutan
Bumthang district lies in the north-central region of Bhutan and due to the presence of great number of temples and religious sites, it is often referred to as the spiritual heartland of the country. Bumthang consists of Chumey, Choekhor, Tang and Ura valleys. The winters are cold and the summers are warm and pleasant
Airport Information
Airport name: Bathpalathang Airport (Domestic)
City: Jakar
IATA code: BUT
11.Gelephu,Bhutan
Gelephu, also spelled as Gelyephug, Gelegphu, Gaylegphug or Gaylephug, is a town or Thromde in Sarpang District in Bhutan. It is located on the Indian border, about 30 km to the east of Sarpang, the Dzongkhag headquarters, and has a population of 9,858 as per the 2017 census.
Airport Information
Airport name: Gelephu Domestic Airport
City: Gelephu
IATA code: GLU
12. Tashigang,Bhutan
Trashigang, or Tashigang, is a town in eastern Bhutan and the district capital of the Trashigang Dzongkhag. The town lies to the east side of the valley above the Drangme Chhu river just south of where it is joined by the Gamri River.

Airport Information
Airport name: Yonphula Airport
City: Tashigang
IATA code: YON
Drukair Route Map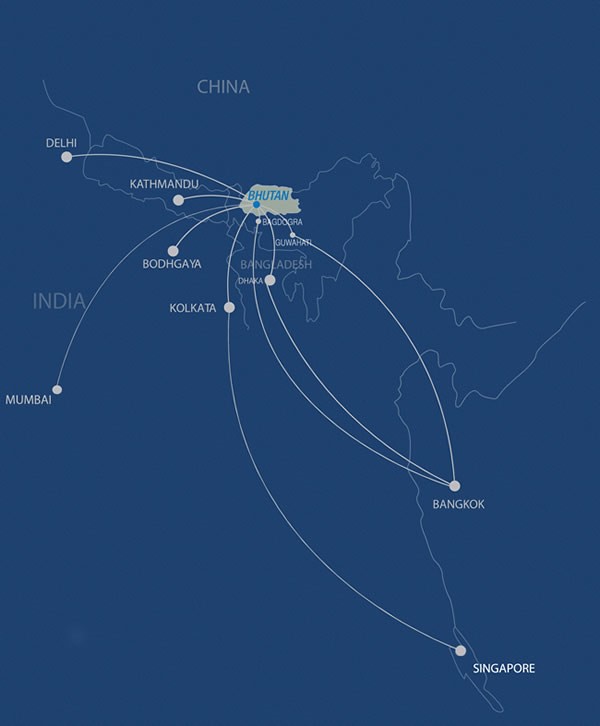 Drukair operates scheduled flights to the following destinations
| Sl.No | Country | City | Airport |
| --- | --- | --- | --- |
| i | Bangladesh | Dhaka | Hazrat Shahjalal International Airport |
| ii | India | Bagdogra | Bagdogra Airport |
| iii | India | Delhi | Indira Gandhi International Airport |
| iv | India | Gaya | Gaya Airport |
| v | India | Kolkata | Netaji Subash Chandra Bose International Airport |
| vi | India | Guwahati | Lokpriya Gopinath Bordoloi International Airport |
| vii | Nepal | Kathmandu | Tribhuvan International Airport |
| viii | Thailand | Bangkok | Suvarnabhumi International Airport |
| ix | Singapore | Singapore | Changi Airport |
| x | Bhutan | Paro | Paro International Airport (International & Domestic) |
| xi | Bhutan | Bumthang | Bumthang Airport (Domestic) |
| xii | Bhutan | Gelephu | Gelephu Airport (Domestic) |
| xiii | Bhutan | Yonphula | Yonphula Airport (Domestic) |