Bhutan Airline Route
Bhutan Airlines (Tashi Air Private Limited), Bhutan's first private airline came into existence after the Tashi Group of Companies, outbid other joint venture companies and won the license to operate the airline service for both domestic and international sectors.
Late Dasho Ugen Dorji founded Tashi Group of Companies in 1959 with the vision to bring out the Best Of Bhutan by following His Majesty's guidelines for development and growth in the Kingdom.
On 4th December 2011, Bhutan Airlines welcomed our first aircraft, A Pilatus PC12 with a capacity of 8 passengers for domestic operations. We began our first international flight from Paro to Bangkok on 10th October 2013 followed by daily scheduled flights to Kolkata on 16th December 2013. An Airbus A320 aircraft operates both these sectors with a seating capacity of 150 passengers.
Today Bhutan Airlines operates with two A319 aircrafts with a seating capacity of 126 passengers which includes 12 Business Class seats and 114 Economy seats. We have daily flights from Bangkok to Paro via Kolkata, India and three flights a week to Delhi via Kathmandu.
We at Bhutan Airlines, work towards providing a safe and reliable travel for our customers and we are hopeful that travellers will continue showering us with your unconditional support and FLY WITH US TO THE LAND OF HAPPINESS.
Bhutan Airline has five destination:
1. Delhi, India
Delhi is the capital city of India and the major gateway to the country. It constitutes a blend of traditional culture along with the today's world. Modern Delhi, now boasts some of the world class restaurants, bars and nightclubs.
Airport Information
Airport name: Indira Gandhi International Airport
City: Delhi
IATA Code: DEL
2.Bangkok,Thailand
Bangkok, the capital city of Thailand is one of the most visited cities, from unbeatable street food to the temples, world renowned floating market and a vibrant night life. It is the largest and the most developed city but manages to maintain it's historical architecture and tradition. Bangkok is a hot spot that continues to attract thousands of people from all around the world.
Airport Information
Airport name: Suvarnabhumi International Airport
City: Bangkok
IATA Code: BKK
3.Kathmandu,Nepal
Kathmandu, the capital city of Nepal has an incredibly diverse historic city with many old Hindu and Buddhist religious sites. Whether you are barreling through the traffic jammed alleyways as the medieval temples or dodging trekking vendors in the backpacker district of Thamel, Kathmandu can be intoxicating, amazing and refreshingly friendly. It is also the home to the highest mount of the world (Mount Everest).
Airport Information
Airport name: Tribhuvan International Airport
City: Kathmandu
IATA Code: KTM
4.Calcutta,India
Calcutta (old name), also known as the city of joy is the second largest city in India. It has developed from a fisherman's village to become one of the largest cities. Calcutta is known to be India's intellectual, artistic and cultural capital. Home to delicious street foods, mouthwatering Bengali cuisine and desserts, it is among India's top cities to sample delicious food.
Airport Information

Airport name: Netaji Subhas Chandra Bose International Airport
City: Calcutta
IATA Code: CCU
5.Paro,Bhutan

Paro is a historic town with many sacred sites and historical buildings scattered throughout the area. It is also home to the only International Airport in the country. It contains one of Bhutan's most iconic landmark, Taktsang Monastery (Tiger's nest). There are over 155 temples and monasteries in the area, some dating as far back as the 14th century.
Airport Information
Airport name: Paro International Airport
City: Paro
IATA code: PBH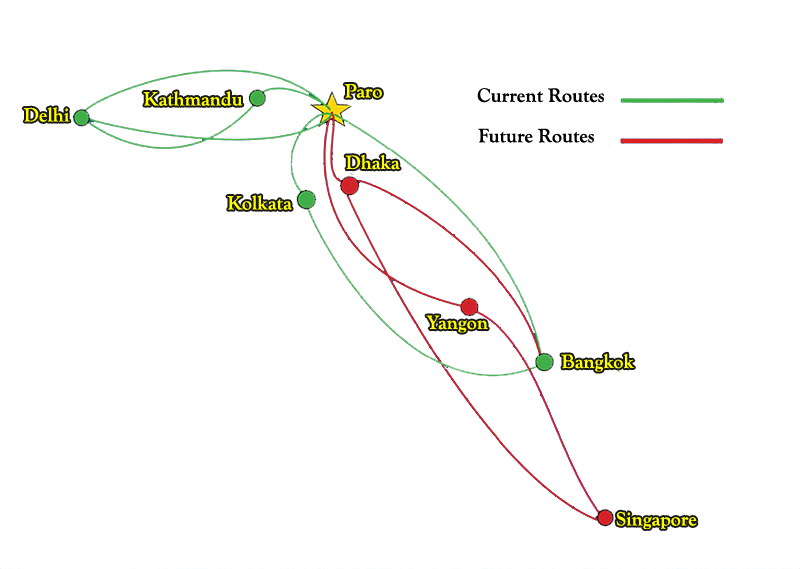 Bhutan Airline Route Map
| Sl.no | Country | City | Airport |
| --- | --- | --- | --- |
| i | India | Delhi | Indira Gandhi International Airport |
| ii | India | Kolkata | Netaji Subash Chandra Bose International Airport |
| iii | Thailand | Bangkok | Suvarnabhumi International Airport |
| iv | Nepal | Kathmandu | Tribhuvan International Airport |
| v | Bhutan | Paro | Paro International Airport (International & Domestic) |